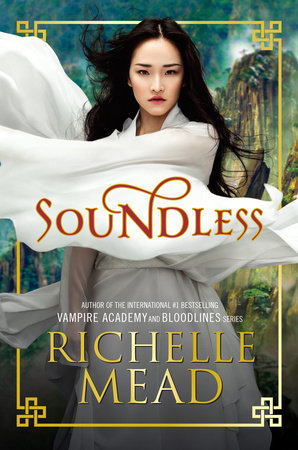 In a village without sound…

For as long as Fei can remember, no one in her village has been able to hear. Rocky terrain and frequent avalanches make it impossible to leave the village, so Fei and her people are at the mercy of a zipline that carries food up the treacherous cliffs from Beiguo, a mysterious faraway kingdom.

When villagers begin to lose their sight, deliveries from the zipline shrink. Many go hungry. Fei and all the people she loves are plunged into crisis, with nothing to look forward to but darkness and starvation.
One girl hears a call to action…

Until one night, Fei is awoken by a searing noise. Sound becomes her weapon.

She sets out to uncover what's happened to her and to fight the dangers threatening her village. A handsome miner with a revolutionary spirit accompanies Fei on her quest, bringing with him new risks and the possibility of romance. They embark on a majestic journey from the peak of their jagged mountain village to the valley of Beiguo, where a startling truth will change their lives forever…
And unlocks a power that will save her people. ~
Goodreads
Source: Borrrowed

Review:
Soundless is an interesting mix of fantasy, folklore and dystopian elements. The residents of Fei's village are all deaf. That is something they have all come to accept. It just is. But now many of the villagers are also going blind and no one knows why.

This presents a problem because the villagers mine metals and send them to the mysterious - never before seen - line keeper in exchange for food. If the miners are going blind and can't send metals the village will starve.

Add to the mystery – Fei, and only Fei, is regaining her hearing.
Fei's sister, Zheng, is one of the people beginning to go blind. Currently, they serve the village as artists who document their daily life – kind of like a newspaper. If the Elders notice Zheng's blindness she will be moved and become either a servant or even a beggar, living on the streets.

Fei teams up with a boy, Li Wei, who she once had a romantic interest in before they were separated by class lines – he is a miner – miners marry miners – artists marry artists etc. No one has ever met the line keeper and Li Wei has suspicions that they are being lied to or that he can negotiate for more food. It's a dangerous journey as the line keeper's village is down a steep mountain that they can only access by climbing down with rope, which is difficult in the best of conditions but made worse by being deaf and unable to hear rocks falling.

I enjoyed
Soundless
, but it's a very quiet kind of story. I adored Fei's loyalty to her sister and would have loved if it was told from both of their pov's. Fei is actually kind of happy with her life and choices. Her artistic talents are lauded by the elders and she has a prominent place in her village. It seems to me that Zheng, who is only a passable artist, has more to lose, and honestly, more to say but the focus shifts to Fei and Li Wei's adventure down the mountain, instead of the sister relationship.
The romance is also very subtle, which was fine with me, but I didn't really care either. With everyone going blind and starving – Li Wei being upset that Fei left him to be an artist and her still having feelings for him seemed like the least of the things they should be worried about.
Soundless
was a lovely story with lovely writing yet it didn't pack an emotional punch. Instead of being breathless when the characters were in danger I was just following along.
So - I liked it - I'm happy I read it - and would recommend it but I wish the characters and relationships carried more weight.
______________________________________________________________________________
Soundless is part of my Blogger Shame review Challenge