Two of my FAVORITE authors have new book releases this week (April 5th) and I can't recommend either enough!
***
Chase Me (Paris Nights #2)
By Laura Florand
Source: e-arc provided by the author for review
A Michelin two-star chef at twenty-eight, Violette Lenoir could handle anything, including a cocky burglar who broke into her restaurant in the middle of the night.

Or so she thought.

Elite counterterrorist operative Chase "Smith" had been through things that made Hell Week look easy. But nothing had prepared him for a leather-clad blonde who held him at bay at knifepoint and dared him to take her on.

Now if only saving the world didn't require he ruin her life.

Two people who thought they could handle anything now have to take on each other.

It's a battle neither one expected. But with their futures on the line, they have nothing to lose...but their hearts.

Warning: This book contains one arrogant Navy SEAL, nights of Paris passion, and a woman who wants to have it all. ~
Goodreads
My thoughts:
This book was so much fun! It was a departure from Florand's super intense, serious, surly chefs and their partners, who are always trying to find ways to prove that they're worth the love that they've been given.
Chase Smith is a counter-terrorism expert, who is so full of himself – yet
hilarious
and endearing. He falls for Violette, a two star Michelin chef, on the spot, after she throws her chef's knives at his head as he is caught, after hours, in her kitchen.
He's totally enamored with her sexy leather outfit, confidence and strength. And Vi is drawn to this man who isn't intimidated by her - after climbing her way to the top in a profession where women aren't respected.
The banter is FANTASTIC. Think Angeline Jolie and Brad Pitt in Mr. & Mrs. Smith. I mean –they just go toe to toe with each other and I loved it!
As light-hearted and fun as it all is, because of Chase's job, and because of the recent Paris terrorist attacks, real life touches the characters and story. (*Florand added a personal note at the end explaining how the attacks changed the tone of
Chase Me
– initially intended as only a light caper story). She did an incredible job paying tribute to a resilient city and the passion it's inhabitants have for life and love in the face of fear and hatred.
Although this is book #2 in the series, it can be read as a stand alone without any problem.
I highly recommend
Chase Me
and everything Laura Florand writes. She's an auto-buy author for me.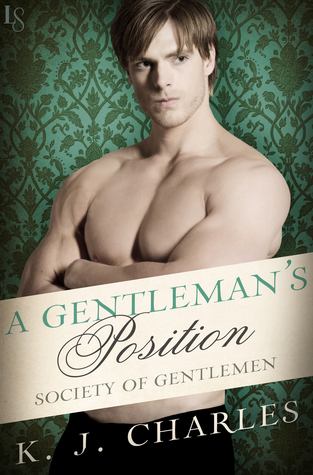 A Gentleman's Position (Society of Gentleman #3)
by K.J. Charles
Source: e-arc provided by the publisher for review
Power, privilege, and the rigid rules of class leave two hearts yearning for connection in the sizzling new Society of Gentlemen novel from K. J. Charles.

Among his eccentric though strictly principled group of friends, Lord Richard Vane is the confidant on whom everyone depends for advice, moral rectitude, and discreet assistance. Yet when Richard has a problem, he turns to his valet, a fixer of unparalleled genius—and the object of Richard's deepest desires. If there is one rule a gentleman must follow, it is never to dally with servants. But when David is close enough to touch, the rules of class collide with the basest sort of animal instinct: overpowering lust.

For David Cyprian, burglary and blackmail are as much in a day's work as bootblacking—anything for the man he's devoted to. But the one thing he wants for himself is the one thing Richard refuses to give: his heart. With the tension between them growing to be unbearable, David's seemingly incorruptible master has left him no choice. Putting his finely honed skills of seduction and manipulation to good use, he will convince Richard to forget all about his well-meaning objections and give in to sweet, sinful temptation. ~
Goodreads
My thoughts:
I adore this series & Charles writing. She always digs so deep into her characters psyche and delivers a story that packs an emotional punch that I rarely find elsewhere.
This series explores power, love, friendships, privilege and so much more with romances that make your toes curl.
This is one of my favorite historical romance series - M/M or otherwise.
I suppose each romance stands on its own but to get the most out of the complicated, ongoing friendships of the *Gentleman* you really should start from the beginning. Each book only gets better in my opinion.