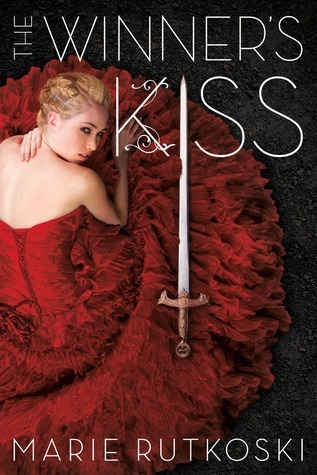 War has begun. Arin is in the thick of it with untrustworthy new allies and the empire as his enemy. Though he has convinced himself that he no longer loves Kestrel, Arin hasn't forgotten her, or how she became exactly the kind of person he has always despised. She cared more for the empire than she did for the lives of innocent people—and certainly more than she did for him.
At least, that's what he thinks.

In the frozen north, Kestrel is a prisoner in a brutal work camp. As she searches desperately for a way to escape, she wishes Arin could know what she sacrificed for him. She wishes she could make the empire pay for what they've done to her.

But no one gets what they want just by wishing.

As the war intensifies, both Kestrel and Arin discover that the world is changing. The East is pitted against the West, and they are caught in between. With so much to lose, can anybody really win? ~
Goodreads
Source: ARC provided by the publisher in exchange for an honest review

Review:

SPOILER FREE!

FEAR.

I always go into the ending of a trilogy with fear these days. I have been disappointed so many times that I don't really read many series anymore.
But I'm here to tell you that you can pre-order and read this book without any fear!
First I'll tell you what
The Winner's Kiss
doesn't
do.
~It doesn't throw in a whole new cast of characters that shove your favorites out and short change their story.
~ It doesn't suddenly add new plot threads just to add silly twists and shock value. (although both twists and shock are in abundance – but they makes sense to everything we've read prior!)
The Winner's Kiss
is about consequences. If you thought
The Winner's Crime
was painful…well then, hold on to that Kleenex box and blankie!
The first half is SO FREAKING INTENSE that I was yelling at my Kindle, then gasping with shock, then grabbing my husband's arm with relief. Yeah – he was laughing at me - but what fun it was to be that invested in a story again! I haven't felt that for a long time – maybe since I read book #2.
So the consequences…I don't want to spoil anything about this book. Just know that everything that has happened since
The Winner's Curse
comes full circle. There's plenty of guilt and blame to go around and Rutkoski puts poor Arin and Kestrel through the wringer – both emotionally and physically. I did want to yell at them a few times but...
But it's all worth it.
The Winner's Kiss
was everything I had hoped it would be and I'm completely satisfied with how she tied it all together and the ending.
WHEW!