Lila Soto has a master's degree that's gathering dust, a work-obsessed husband, two kids, and lots of questions about how exactly she ended up here.
In their new city of Philadelphia, Lila's husband, Sam, takes his job as a restaurant critic a little too seriously. To protect his professional credibility, he's determined to remain anonymous. Soon his preoccupation with anonymity takes over their lives as he tries to limit the family's contact with anyone who might have ties to the foodie world. Meanwhile, Lila craves adult conversation and some relief from the constraints of her homemaker role. With her patience wearing thin, she begins to question everything: her decision to get pregnant again, her break from her career, her marriage—even if leaving her ex-boyfriend was the right thing to do. As Sam becomes more and more fixated on keeping his identity secret, Lila begins to wonder if her own identity has completely disappeared—and what it will take to get it back. ~
Goodreads
Source: Purchased
Quick thoughts:
4 stars for Lila and the honest portray of a marriage/motherhood.
2 stars for Sam (Lila's husband, and secret food critic) and the resolution of their marital problems problems.
I have never in all my years of reading condoned an affair but I was whole heartedly rooting for Lila to cheat on her selfish bastard of a husband. SPOILER: highlight –>
(She doesn't)
He's just unreal in what he expects and how isolated/cut off from any friends he makes her and when it came to the resolution - even his apology was half ass with a dig towards her being jealous of his job. Lila is a better woman than I would be. There would be some major grovel expected if that were me.
And to top it all off - his freaking about about keeping his identity secret was for nothing. SPOILER: highlight –>
EVERY. SINGLE. PERSON. KNEW. So stupid. Why didn't he just review under a pen name if he didn't want anyone knowing him?
Despite my extreme dislike of Sam, I adored Lila and the exploration of marriage and the give and take/compromise involved and how lonely motherhood can sometimes be. Not to mention all the yummy food descriptions!
***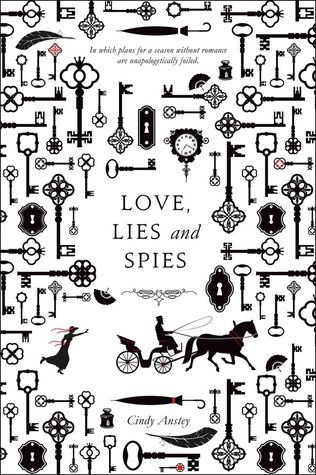 Juliana Telford is not your average nineteenth-century young lady. She's much more interested in researching ladybugs than marriage, fashionable dresses, or dances. So when her father sends her to London for a season, she's determined not to form any attachments. Instead, she plans to secretly publish their research.

Spencer Northam is not the average young gentleman of leisure he appears. He is actually a spy for the War Office, and is more focused on acing his first mission than meeting eligible ladies. Fortunately, Juliana feels the same, and they agree to pretend to fall for each other. Spencer can finally focus, until he is tasked with observing Juliana's traveling companions . . . and Juliana herself. ~
Goodreads
(YA)
Source: arc provided by the publisher
Quick thoughts:
The romance was so dang cute! I loved how unique both Juliana and Spencer were and how they were so drawn to each other. Their conversations were wonderful.
I do wish the *spies* portion of this title was integrated better. I was hoping for more intrigue – or gadgetry maybe. Instead it seemed more of a plot device to keep throwing Juliana and Spencer together.
Nevertheless, this was a cute, light read.