Enter an alternate 1920's world of magic and adventure in this gripping, new adult, fantasy romance...

Orphaned and alone, Jasminda is an outcast in her homeland of Elsira, where her magical abilities are feared. When ruthless soldiers seek refuge in her isolated cabin, they bring with them a captive – an injured spy who steals her heart.

Jack's mission behind enemy lines nearly cost him his life but he is saved by the healing power of a mysterious young woman. Together they embark on a perilous journey straight into the heart of a centuries-old conflict.

Thrust into a hostile society, Jasminda and Jack must rely on one another even as secrets jeopardize their bond. As an ancient evil gains power, Jasminda races to unlock a mystery that promises salvation.

The fates of two nations hang in the balance as Jasminda and Jack must choose between love and duty to fulfill their destinies and end the war.

New Adult. Recommended for readers 17+. ~
Goodreads
Source: Purchased

Quick thoughts:
Awesome cover and premise! After an promising start, filled with intrigue and magic – things kind of fell into a generic forbidden romance and less exciting tale without much world building, with predictable heroes and villains and outcome. Not awful but not as exciting or original as I had hoped.
Time-travel tour guide Reegan McNamara's job—taking eager tourists to whenever they want to go—is usually a breeze. A trip back to 2020 to watch a world-changing speech seems no different, until a woman runs away from his tour group before the jump home. Now her tycoon husband is demanding her safe return—or Reegan will lose more than just his job.

P.I. Saul Kildare's business is running on borrowed time. Due to a messy break with the police, he can't get a referral to save his life. When an enigmatic stranger bangs on his door one night and promises a windfall for a missing-person case, it seems too good to be true. But the two men have an immediate connection, and Saul can't pass up the chance to spend more time with Reegan, even if he's clearly hiding something.

Saul knows he shouldn't trust Reegan, and Reegan knows he can't get involved with Saul. But as their attraction evolves into feelings neither can deny, will they have the strength to take a leap of faith—together? ~
Goodreads
Source: Purchased

Quick thoughts: Ignore the generic, naked torso cover – because this book was so much fun! Easy to understand sci-fi/time travel, great romance with sarcastic banter, well developed side characters. I only wish this was a series. There was so much more to explore!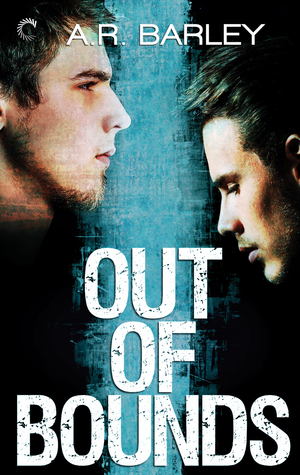 When the weather outside starts cooling down, inside the dorm things are heating up. Can these college roommates fall in love without going out of bounds?

Beaten and heartbroken, Jesse Cole is placed in a new dorm room after his last roommate attacked him. Just wanting to be left alone to heal in peace, he's shocked when tall, dark and dangerous-looking Nick Moretti walks in.

Nick doesn't have time to tiptoe around his new roommate—he's too busy working in order to pay for school. But something about Jesse brings out his protective instincts. As their cautious friendship grows and becomes loaded with sexual tension, he wants to make Jesse comfortable.

Enter the perfect plan: a line of tape down the center of the room. Boundaries established.

But as innocent movie nights become hours-long temptation marathons, and whispered chats from across the room delve into straight-up dirty territory, crossing the line has never been so satisfying. ~
Goodreads
Source: Purchased

Quick thoughts:
Sweet romance but one I felt like I've read hundreds of times before. (& for me – A.J. Cousins Off Campus did it better) but still recommend.
KaveMan is a London graffiti artist--world famous, wealthy, brilliantly creative. And Laurel Xavier hates him.

Laurel, a laid-off city planner, is bitter from compromising her dreams and still losing her sensible job. So when she gets a glimpse of the mysterious KaveMan, whose dream is apparently painting others' property in her hometown of New Haven, she's determined to find him, unmask him, and ruin his so-called career--even if it means losing some shoes and self-respect in the process.

But why does chasing KaveMan make her feel more alive than she's felt in years?

KaveMan isn't used to sharing his real self, let alone his real name. But when he's caught by Laurel Xavier, he starts to realize the one woman he yearns to whisper his secrets to is someone who would scream his identity from the highest rooftop. That would mean the end of his work, his passion. It can't ever happen.

Unfortunately, he bloody well can't seem to stay away from her. ~
Goodreads
Source: Copy provided in exchange for an honest review

Quick thoughts: What a fun story! The way these two fought their attraction was hilarious. I went into panic mode when I saw that this book had over 40 chapters!, and while it is a tad too long, many of the chapters are less than a page long (269 total pages) and the story flew by thanks to the humor, action and romance.


In Love in the Time of Murder, the Gray-Haired Knitting Detectives face their toughest case yet. Delilah, or Dee as she wishes everyone would just call her already, is the granddaughter of one of the knitting detectives and her life is in a bit of a shambles. She finally manages to pry herself away from her husband's clutches, move out on her own, and start her own business. But then her estranged husband is murdered and she's the number one suspect. The Gray-Haired Knitting Detectives aren't about to let one of their own get sent to the slammer and jump at the chance to search for the true killer. As if Dee doesn't have enough problems, the knitting detectives decide that Delilah being a widow is the perfect opportunity to find her a new man and decide to put their matchmaking skills to use. Will Dee end up in prison for a murder she didn't commit or will she be taking another walk down the aisle?
~
Goodreads
Source: Copy provided in exchange for an honest review

Quick thoughts: I've enjoyed this cozy mystery/romance series but this installment was a dnf for me.

The heroine, Dee, comes from an abusive relationship and when she comes home to family - the Gray-Haired Knitting Club – they are all controlling, interfering busy bodies. As is her new love interest – Tommy. He literally picks her up and carried her away, another time lets himself into her house, puts his hand on her shoulder possessively when talking to other men. Sure he's a nice guy but NOPE. That's the last thing she needs in her life. I didn't find the ladies quirky or cute this time around - even of their intentions are good. I just couldn't go on reading that. I made it to the 50% mark. The mystery was fun – what I read of it.