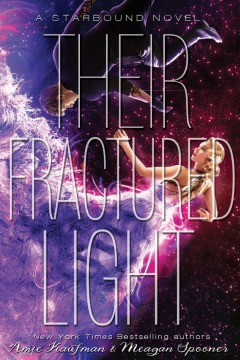 A year ago, Flynn Cormac and Jubilee Chase made the now infamous Avon Broadcast, calling on the galaxy to witness for their planet, and protect them from destruction. Some say Flynn's a madman, others whisper about conspiracies.

Nobody knows the truth. A year before that, Tarver Merendsen and Lilac LaRoux were rescued from a terrible shipwreck—now, they live a public life in front of the cameras, and a secret life away from the world's gaze.

Now, in the center of the universe on the planet of Corinth, all four are about to collide with two new players, who will bring the fight against LaRoux Industries to a head. Gideon Marchant is an eighteen-year-old computer hacker—a whiz kid and an urban warrior. He'll climb, abseil and worm his way past the best security measures to pull off onsite hacks that others don't dare touch.

Sofia Quinn has a killer smile, and by the time you're done noticing it, she's got you offering up your wallet, your car, and anything else she desires. She holds LaRoux Industries responsible for the mysterious death of her father and is out for revenge at any cost.

When a LaRoux Industries security breach interrupts Gideon and Sofia's separate attempts to infiltrate their headquarters, they're forced to work together to escape. Each of them has their own reason for wanting to take down LaRoux Industries, and neither trusts the other. But working together might be the best chance they have to expose the secrets LRI is so desperate to hide. ~
Goodreads
Source: Purchased

Review: I don't follow many series anymore but this is one I've stuck with. It's wildly inventive and fun – with each book exploring new worlds and conflicts. Their Fractured Light introduces us to a new couple while tying everything together with the previous books and characters. And while the series is considered three *companion* novels, I wouldn't recommend reading them as stand alones or out of order.
Overall, this book was everything I hoped for as a conclusion to the series. We get to reconnect with the couples from the first two books (
These Broken Stars
and
This Shattered World
) – they ALL get plenty of page time. Every question is answered and TFL was action packed from start to finish.
Even so, I had a few nitpicks with this installment. For one, I DEFINITELY should have re-read the first two books before starting this one. I"m pretty good at remembering the big picture but there were important details that I had forgotten and it made me wonder what the big deal was when it came to a very important plot-line between our new couple - Gideon and Sophia. But that's on me – not the authors.
As I mentioned earlier, we get a lot of time with the previous couples and I LOVED it – but – it took too much page time away from Sophia and Gideon. And I think they had the most interesting backgrounds and complicated romance of the three, so they needed the extra time to go from enemies to love.
I also kind of hated the whole climatic moment with the big series villain. While we learn more about LaRoux and his motivations, he becomes nothing more than a cartoon villain, spilling out his master plan and whining about *these meddling teens*. It was kind of a letdown to be honest.
There are also interlude chapters from the POV of the Whispers and I found it distracting at first until it started tying in better with Gideon and Sophia's story. It ended up being kind of cool to see the perspective of an alien race that is interested in contact with humans - yet so misunderstood and mistreated.
So I had a few issues, but even so I highly recommend this series if you love sci-fi and characters that break the conventional molds of YA.