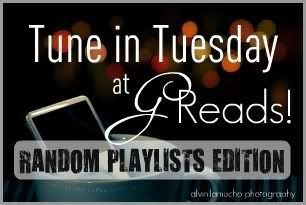 Tune in Tuesday is a weekly feature hosted by Ginger over at
GReads!
to share the music we're listening to and maybe discover someone new.
In keeping with the Random Playlist Edition theme this month I'm just going to grab whatever pops up on my iPod or Spotify playlists.


The Foggy Dew – The Cheiftans Ft. Sinead O'connor


Paddling Out – Miike Snow – (This is one bizarre video)
Chic – Le Freak (I'm showing my age with this one but it was my FAVORITE song ever at the time lol)
Since we have established that I'm old with Le Freak, I'll end with the Gap Band – You Dropped the Bomb on Me.

I'm dying laughing at the video but I still love this song.
There! That was eclectic (& slightly embarrassing) this week. What are you listening to?