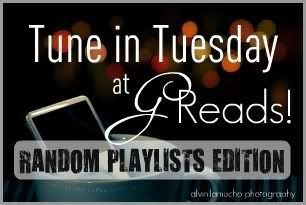 Tune in Tuesday is a weekly feature hosted by Ginger over at
GReads
! to share the music we're listening to and or to discover someone new.
In keeping with the Random Playlist Edition theme this month I'm just going to grab whatever pops up on my iPod or Spotify playlists.
Cake – War Pigs
I love Cake's version of this Black Sabbath song.
Jack White - Love Interruption –
I'm not a huge Jack White fan but I love this song. It gives me
chills.
My hubby Kevin wanted to participate this week so here are a few of his random playlists picks:
Garbage – #1 Crush –
one of my all time favorite bands.
Blind Pilot - 3 Rounds and a Sound
That's it for this week! What's on your playlists?